"He who doesn't consider himself is seldom considerate of others."
– David Seabury
My wife and I took a quick trip to Las Vegas this past weekend.  When we arrived, we headed to the rental car shuttle bus where we noticed a line starting to form.  Apparently, the president was in town making his last-minute election push through Nevada, stopping all traffic in and around the airport.  It wasn't long before the once-short shuttle bus line was now about a hundred people deep.  A few minutes later, a man and woman, both probably in their late 40's, slowly walked to the front-of-the-line area and stopped (notice I said front-of-the-line "area" and not to the actual front of the line).  If you've ever been in this type of situation, you know what comes next.  Grumbling.  Whispering.  Finger-pointing.
"What is that guy doing?"
"Doesn't he know there's a line?"
"I know he's not trying to cut in line."
Long story short,the shuttle bus finally came and of all the people there, it was a 14 year-old girl who shouted, "Excuse me, sir, but there's a line!"
Then everybody piled on – telling these two to get to the back of the line and screaming at the attendant that they were cutting in line.
I was fascinated by this.  I wanted to know what this guy was thinking.  I'm sure you've seen this plenty of times.  I remember standing in a huge restaurant line at Disney Orlando when suddenly this guy walks straight up to the front of the line and cuts in front of a lady nearing the window.  No explanation.  No eye contact.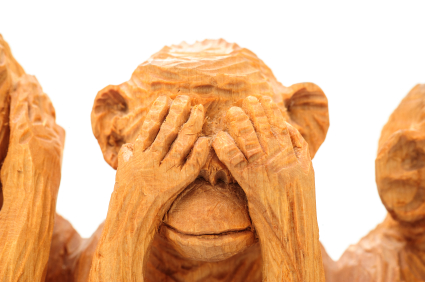 It's hard to believe these individuals were oblivious in these situations.  I mean, how can you miss a hundred people standing in a big line?  But there are those times where we're completely oblivious to what's going on around us.  As much as I try to be "present" and aware of what's going on around me, I have found myself on auto-pilot at times.
A few years ago, I was taking a tour of a Catholic school along with about thirty other people.  When we were in the Administration building, the tour guide talked about how the saint's relics (remains and religious objects) were buried under the school's seal, and how students carefully walked around this area which the school community recognized as "sacred space."  As I listened to the tour guide, everything fell silent as I noticed the group staring at me.  I was standing on top of the seal the whole time!  Now this was a case of being oblivious, not purposefully inconsiderate.
Inconsideration is a pet peeve, something I've written about before.  But I think it's pretty easy to identify those who are a little oblivious versus those who are being straight-up inconsiderate.  The former are usually quick to apologize while the latter act as if you're the one who's doing something wrong.
If you're an inconsiderate person by nature, then I can't help you.  That's something you'll have to work out on your own.  But for those of us who sometimes are oblivious, the remedy is simple: Be Aware.  Be aware of the people around you, the situation you're in, people's body language, and the overall "vibe."  And when in doubt, just ask.  
"Excuse me, is this the line for the rental car shuttle bus?"
The funny thing about the shuttle bus guy was that, after being yelled at by a hundred people, he had the nerve to say, "Hey, I've been waiting out here just as long as you have."  Which is technically correct, after he cut in line.
Unbelievable.  Voltaire was right when he wrote, "Common sense is not so common."
When was the last time you were oblivious in a situation?