I don't know anything about cycling. My co-worker, a semi-pro cycling competitor, is my go-to guy whenever I have questions about Lance Armstrong and his ongoing battle against the United States Anti-Doping Agency (USADA), the French press, detractors and anyone else who believes he used performance enhancing drugs (PEDs) to win an unprecedented seven Tour de France titles – one of the toughest and most prestigious athletic competitions on earth.
When Armstrong announced he would stop fighting the charges leveled by the USADA, he was immediately stripped of his seven Tour titles and handed a lifetime competition ban. The whole thing is very confusing and could take years to sort out. Take, for example, an explanation in a recent newspaper article:
Strip the titles then award them to who? Nearly all of Armstrong's second-place finishers were tainted by their own drug issues.
The International Cycling Union (UCI) controls the record books but won't make any decisions until they have more facts around the USADA's investigation.
The Tour itself is silent, deferring to the UCI and USADA.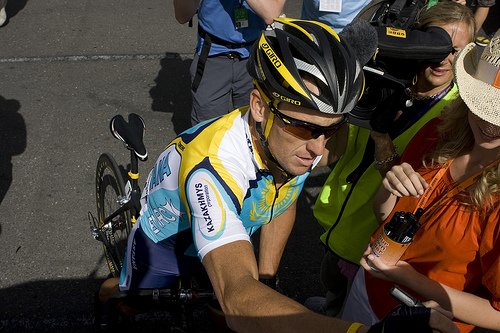 "Polarizing" (to divide into sharply divided factions or groups) is a good term to describe how people feel about Lance Armstrong.  Many supporters praise his achievements and the Livestrong Foundation while his detractors view him as a cheater.  Read any of the comments associated with the recent news reports and you'll find that the responses are all over the board:
"Justice has been served."
"Lance never tested positive."
"No way would he have given up if he was innocent."
"The USADA is a joke."
For me, I continue to be a Lance Armstrong supporter. My feeling around the stripped tour titles and doping allegations can be summed up in three words:
It doesn't matter.
But our sports heroes are supposed to be honest, tough and most of all, clean. I get that. Fans are fickle. We're so quick to prop up and then discard the people we most admire. The whole thing confuses me. Like millions of other Americans, I was glued to the TV watching McGwire, Sammy Sosa and subsequently Barry Bonds chase the home run record. We cheered for them. Fast forward a few years later and they are now pariahs in their own sport. So disliked that their induction into the Hall of Fame, once a sure thing, is now in question.
With Tiger Woods, we put him in the doghouse for a year due to marriage infidelity but now fans are desperately pulling for him to match (and surpass) Jack Nicklaus' career record of 18 majors. Athletes get arrested. They drive (and get caught) under the influence. They are found guilty of domestic violence and tax evasion. We still pull for them. In other words, there is no criteria as to when we should or shouldn't support someone we admire.
With or without Tour titles, Armstrong's story is still inspirational – going from the cancer death bed to competing on cycling's biggest stage. After my cancer surgery, I was thankful just to get back on an exercise bike in the gym. I scoured the Livestrong Foundation website to better understand cancer, find nutrition tips and learn preventative measures. What was especially helpful, at the very core of the Livestrong Foundation, was finding support and motivation from a community of cancer survivors, each person with their own unique and powerful story.
So I'll continue wearing my Livestrong bracelet and putting on my Livestrong shirt. Lance Armstrong's legacy (tainted or not) goes far beyond any championship or medal. It will be about the positive impact on millions of people affected by cancer (including myself). And for me, that goes way beyond any judgment passed by an individual, the media, or sports governing body.
How do you feel about Lance Armstrong?