Credibility – "The quality of being believable or worthy of trust."
I recently attended an industry training seminar and saw an old co-worker.  This former manager abruptly left the company after several months of abrasive behavior, confrontations with co-workers and questions about her overall integrity.  I couldn't help but think about the integrity part as I watched her pick up her certificate of completion (they handed them out first thing in the morning) and walk right out of the conference room.  She never came back.  In other words, she left a half-hour into what was supposed to be an eight-hour training class.  
Whether it's in business or our personal lives, how much time would you spend around someone you didn't trust?  Would you buy something from them?  Invest in their product?  Have dinner?  Go on vacation?  Probably not.
Credibility is extremely hard to build but very easy to lose.  Like my aforementioned co-worker, after a few slip-ups, whatever good will she had built with her direct reports, peers and higher-ups had quickly deteriorated.  Several years after leaving the company, people still mention her name and cringe.  Now that's leaving an impression (in a bad way).  Don't let this be you.  Avoid these six credibility killers:
• Lying – This is the quickest and easiest way to end your credibility.  Once your lie is revealed (no how matter how small), every time you open your mouth, people will: 1) Remember the time that you did lie; and 2) Wonder if you're telling the truth.
• Not Helping – I remember being at a work volunteer event where we were helping clear trails at a local park.  At one point, it was just me, one of my department mates, and another guy from a different department who we didn't know.  The guy from the other department proceeded to put his shovel down while telling us what we had to do.  By not helping, you're telling the rest of us that you're lazy and can't be counted on when needed.
• Trashing Others – We all need to vent sometimes, and yes, your gripe or complaint might be legitimate.  But how often and how violently are you trashing other people?  What are you saying?  When you verbally assault people behind their back, the person you're talking to starts to wonder what you're saying about them when they're not around.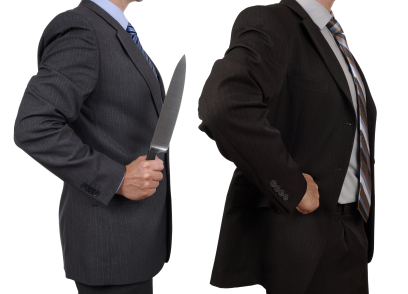 • Taking Credit For Other People's Work – If you've ever:
stolen someone's idea;
asked someone for significant help;
worked with others on a project;
and then took credit for all the work that was done, keep in mind these same people will not trust you or want to work with you ever again.
• Break Confidentiality – "Just between you and me" is supposed to mean "Just between you and me."  When someone tells you something in confidence, it should be, well, confidential.  The fact that this person thinks highly enough of you to share something in confidence should be taken as a compliment.  Don't blow it by telling others.
• Taking Shortcuts – I'm not talking about shortcuts that actually increase efficiencies or improve processes.  I mean shortcuts that totally circumvent your duties or responsibilities.  Take for example tragic accidents where a bridge collapses or gas line explodes because an inspector chose to sign off on a safety inspection without actually completing the inspection.  The attitude of "it's no big deal" can suddenly become a very big deal if something blows up (sometimes literally).
We've all screwed-up and probably did one (or more) of the things mentioned above.  The critical thing is how did we respond?  Did we immediately address the situation and course-correct or did we just blow it off?  Even the smallest of actions eventually lead to habits.  These habits result in severe consequences in both our professional and personal lives.  Treat your credibility as something sacred and guard it closely.  Even if you don't realize it, people are watching you everyday.
What are some other credibility killers?