My friend Paul recently passed away.  He fought and fought, but sadly, like the millions of others before him, he could not fight the cancer anymore.
Growing up, I remember listening to my Mom talk about friends and family members who were passing away.  I didn't think much of it because I thought that's what happens when you get older, right?  You grow old and pass away.  There are no do-overs or extensions.  Time catches up with everyone.
But Paul was only in his thirties.  He just got married.  Just had a son.  Through our periodic dinners-out and UFC fight nights, my friends and I watched as the cancer and chemo treatments began to take their toll on Paul.  The memorable night where we emptied our wallets of cash and dared him to eat and finish a Claim Jumper eclair seemed like a distant memory. (After some dry-heaving, he did finish the eclair.  And if you've never seen a Claim Jumper eclair, imagine a Duraflame log smothered in whipped cream.)
Paul was a guy's guy.  Intelligent, highly opinionated, blunt, and a big eater.  I'll miss his playful verbal assaults on me of: 1) eating like a woman (or small child), 2) weighing as much as a woman (or small child), 3) my lack of handyman skills, and 4) indecisive nature.  I'll also miss hearing his opinions and explanations on everything from education to cars to UFC Ring Girl Arianny Celeste.
The past few weeks have been a blur.  With work, Easter, and the family on Easter break, I don't think I've had a chance to process the whole thing…or maybe I've been avoiding it.  Emotions are an unpredictable and funny thing.  I didn't break down and cry until, out of all places, I was running on a treadmill at 24-Hour Fitness.  For some reason, the Gym Class Heroes' "The Fighter" got to me.  I had to play it off and pretend I was having a severe allergy attack.
If you fall pick yourself up off the floor (get up)
And when your bones can't take no more (c'mon)
Just remember what you're here for
Cuz I know Imma damn sure
Give em hell, turn their heads
Gonna live life 'til we're dead.
Give me scars, give me pain
Then they'll say to me, say to me, say to me
There goes the fighter, there goes the fighter
Here comes the fighter
That's what they'll say to me, say to me, say to me,
This one's a fighter
'Til the referee rings the bell
'Til both ya eyes start to swell
'Til the crowd goes home,
What we gonna do kid?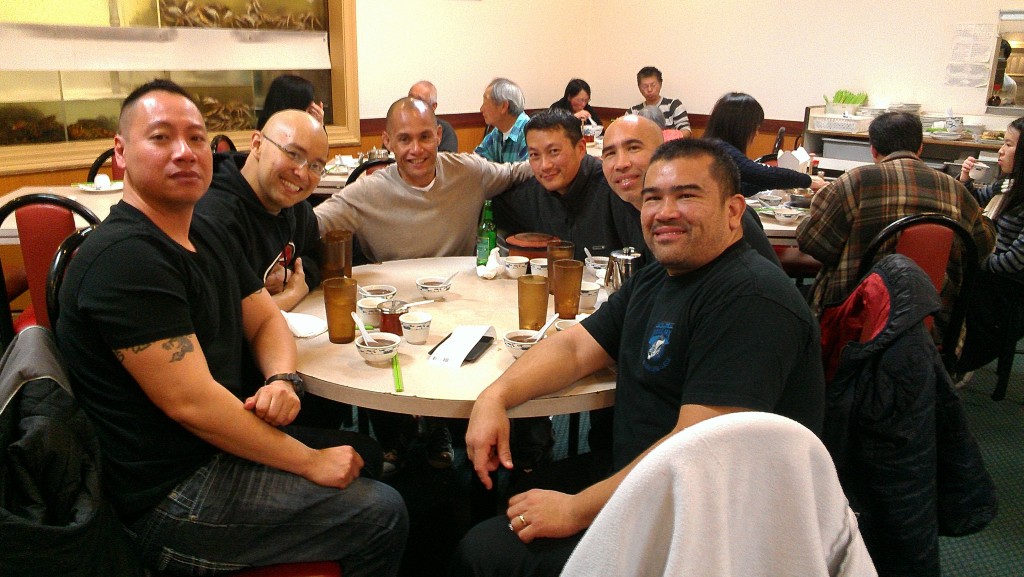 Even as a child, I understood the importance of finding and appreciating true friendships. They are rare, beautiful, and extremely hard to come by.  Paul's unexpected passing is a reminder to not only be grateful for these relationships, but to take time out once in a while to reminisce about those memorable and special times together.
Like the picture taken at Dan's wedding, I'll have a lot of great memories to carry with me. Until we see each other again Paul…we love you and will miss you.